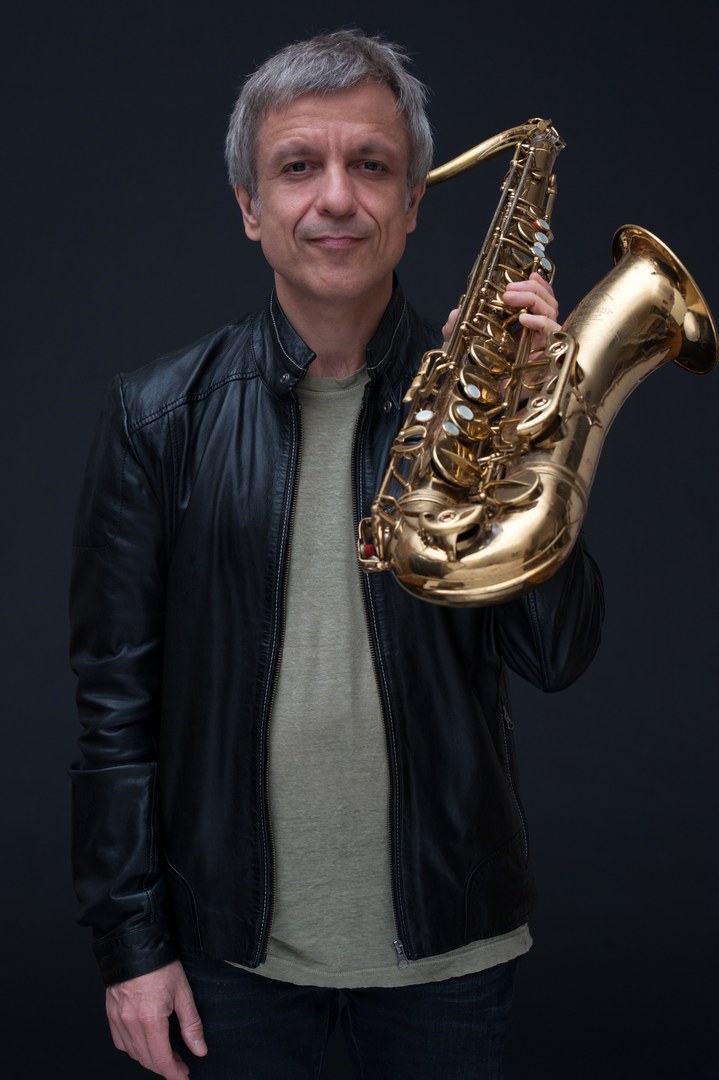 A great admirer of Charlie Parker and Cannonball Adderley, he begins studying the saxophone at the age of 12, in 1987 enters the G. Rossini Conservatory of Pesaro to study with maestro Federico Mondelci, and in 1990 graduates with the highest honors. From the moment he begins playing the sax, his natural interest in various and often very different types of music (jazz, rock, classical), induce him to experiment with various types of musical expression ranging from symphony orchestras to jazz groups and pop singers. He collaborated with the "Philharmonic Orchestra of La Scala" in Milan, the "Symphony Orchestra of the RAI" (National Public Radio and Television) of Turin and the "Accademia Nazionale di Santa Cecilia", under the conducting of Daniel Barenboim, Georges Prêtre, Luciano Berio, Riccardo Chailly, Daniele Gatti, Bobby McFerrin.
In 1992, parallel to his profession as musician, arranger, composer and session man for various italian groups, he also begins his teaching career, teaching saxophone at the Conservatory of Mantua. Comoglio is currently teaching saxophone at the prestigious "G.Verdi" Conservatory of Milan.
In 1993, he begins what was to become a long cycle of tours, first in Italy with a serious of groups including Elio e le Storie Tese, then in Europe with Adriano Celentano and more. The beginning of the Nineties also mark his start of collaboration and continuous participation on the recordings of artists like Renato Zero, Raf, Fabio Concato, Lorenzo Jovanotti, Elio e le Storie Tese, Tony Hadley, Gino Paoli, Paola Turci and others. In the second half of the Nineties he turns his energies to an intense television experience, collaborating in many national broadcast television shows.
DANIELE COMOGLIO QUINTET
DANIELE COMOGLIO
POP COLLABORATIONS (SELECTION)
Elio e le Storie Tese:
Esco dal mio corpo e ho molta paura (1993)
Eat the Phikis (1996)
Craccracriccecr (1999)
Cicciput (2003)
Gattini (2009)
L'Album Biango (2013)

Renato Zero:
L'Imperfetto (1994)
Sulle Tracce dell'Imperfetto (1995)
Amore Dopo Amore (1998)
Puro Spirito (2012)

Enzo Jannacci:
L'Artista (2013)

Tony Hadley:
The Christmas Album (2016)

Raf:
Manifesto (1995)

Ivan Graziani:
Per Sempre Ivan (1999)

Fabio Concato:
Blu (1996)

Jovanotti:
L'Ombelico del Mondo (1995)

Dirotta Su Cuba:
Nonostante Tutto… (1996)

Daniele Silvestri:
Il Dado (1996)

Pacifico:
Dolci Frutti Tropicali (2006)

883:
Chiuditi nel Cesso (1994)

Paola Turci:
Una Sgommata e Via (1995)

Pago:
Aria di Settembre (2009)
JAZZ COLLABORATIONS (SELECTION)
Monday Orchestra di Luca Missiti:
Never Alone, tributo alla musica di Michael Breker – Feat. Randy Brecker, Bob Mintzer
Arrangiamenti e direzione di Luca Missiti (2018)
Rudi Manzoli:
Double Side Octet (2018)
Marco Ricci:
Café Pearls (2014)
Luca Meneghello:
Relativity (2012)
Luca Jurman:
Live in Blue Note Milano (2009)
Biba Band:
Biba Band Live (2005)

Everest:
Around the Time (1994)

Chopin Express:
Nemmeno la Notte (1991)